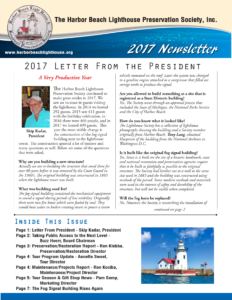 It's been a great year for our lighthouse. Read all about it in our 2017 annual newsletter. It's available for direct download here.
2017 was a very special year as our dedicated volunteers rebuilt the fog signal building. We hosted nearly 500 visitors as our attendance continues to increase year over year.?We can now turn our attention to finishing the interior and program the space with Harbor Beach and Great Lakes maritime heritage exhibits to enhance the tour experience. Your support is needed to continue our efforts. A donation form is included in the newsletter or it can be downloaded directly here. For your convenience, the donations can be made completely online here.?If your gift is $50 or more please provide your name or someone you would like to honor and that will appear on a donor list that will be installed in the building.?The Society is a 501 c 3 and thus your gift is tax deductible to the extent allowed by law.
Thank you for your support. See you next year. Our tours will be?Saturdays – June 23 through September 29. We'll send out an announcement when tickets can be purchased. Sign up for our online newsletters to get these announcements. Simply fill out your email on the form to the left.