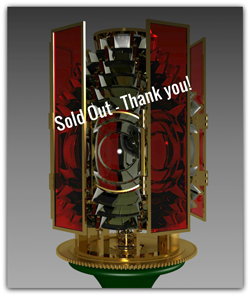 Be a Part of our Lighthouse History!
Please support the?most important treasure in our?community.
The Harbor Beach Preservation Society is proud to announce a new "sponsor" opportunity to complete funding for the replacement, acrylic lens in our Harbor Beach Lighthouse. The original 4th order Fresnel lens, which was removed by the Coast Guard in the 1980s, is available at the Grice Museum in Harbor Beach. The Society would like to return the sweeping beam of alternating white and red light, that moves along the shore and then flashes as one of the prism faces align with your eyes, to our lighthouse in time for the 130th anniversary in 2015.
Please consider joining your friends and family in sponsoring one of the five red panels, 10 large prism assemblies, called "bulls eyes" or one of the ninety prisms. The Harbor Beach Lighthouse Preservation Society is a fully, recognized 501 c 3 non profit, and as such, all gifts are fully deductible to the maximum extent allowed by law.?Thanks for your help and continued support of "our" lighthouse. ?The light will shine bright with your generosity for years to come.
Note:
The Bring Back the Light campaign committee is pleased to announce that we have received enough funding from sponsorships of the prisms on the new lens to go ahead and order it! Thanks to all who contributed! The donor list is over 75 at this point, showing a very broad commitment from our friends and members.We will keep you updated on the progress of our lens production from the supplier, Artworks Florida. That will probably include some photos of the lens as the prisms are created amazingly by a 3 D printer. They are then polished and inserted into the brass frame. If you want to see owner Dan Spinella's work, please visit his very cool website at www.artworks-florida.com.
Bring Back the Light Committee
Click here?to download a flyer with detailed information.