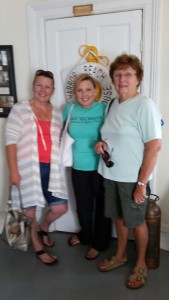 On Saturday August 15, 2015 we had the the great granddaughter and two great great granddaughters of Loren Trescott take a tour of our lighthouse. The first Lightkeeper at Sand Beach was Captain Loren Trescott who was appointed in 1887. He remained the keeper for 34 years. He has a street named after him and the pier was named after him but was recently changed to the Judge James H. Lincoln Park just last year.
They were thrilled to visit the lighthouse and enjoyed the tour.
Pictured: ?Mildred Trescott Seidelman, great granddaughter and great great granddaughters, ?Denise Adelson and Jill Seidelman.