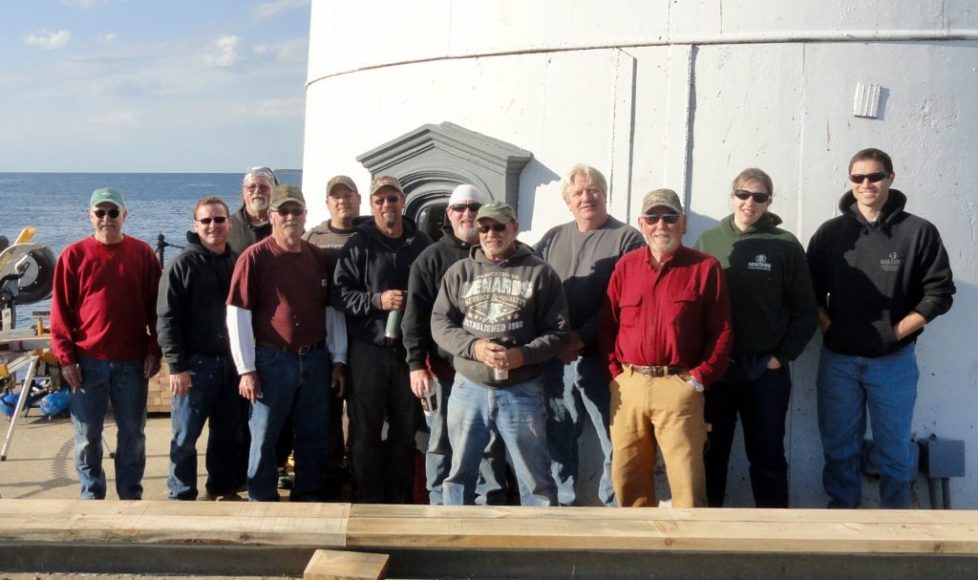 2017 Preservation/Restoration Report
The summer of 2017 saw the Lighthouse Preservation Society accomplish a goal that it has thought about for many years.  A replica of the original Fog Building. It is up and nearly complete minus a few exterior details and interior finishing. With a large group of local experienced professional help as well as our regular volunteer crew we were able to frame and erect the entire building in one weekend. This involved 13 volunteers on the 3rd of June and 12 volunteers on the 4th of June.  Once the building was framed and erected our regular "maintenance Wednesday" crew was able to complete the roofing and siding as well as install and paint the windows and doors.
As a prelude to all of the actual construction work, all of the building materials, scaffold and tools as well as a porta john had to be hauled by boat out to the site. We literally man handled all of the lumber piece by piece on to our pontoon boat and on to our 16ft. work boat and motored out to the lighthouse making a total of 11 trips.  As the material was transported out to the breakwall the material was re-stacked and made ready for use.  Once again, several trips were made back to shore with our pontoon loaded with scraps of lumber, roofing and siding. I could go on and on about this project knowing that it was going to be a logistical, never ending problem solving challenge but in the end things went very well. I am thankful that the weather off shore cooperated, that we had no injuries, and that all those involved were able to walk away with a great sense of accomplishment.
Thank you to all those who hauled framing tools, lumber, siding, scaffold, generators, pneumatic nail guns, donuts, saws, cases of water, roofing, boxes of nails, screw guns, air compressors, doors, food, windows, extension cords, air hoses, 6 saw horses, scaffold planks, ladders, table saw, steel siding saw, nibblers and on and on and on!
Next summer we will finish off the interior of the building which includes a new wood floor and install replica smoke stacks to the roof of the building.
How do I Donate?
You can donate online by clicking on the icon on the left.

Or, download the form and send it along with a check to our Treasurer, Glen Townley. Mailing instructions are included on the form.
Each donor whether an individual, group or family, will be recognized on a sign at the gift shop.
Gifts are Deductible: The Harbor Beach Lighthouse Preservation Society, Inc. is a recognized 501 c 3 non profit, and as such all gifts are fully deductible to the maximum extent allowed by law.
Questions: We appreciate your continued support of the lighthouse restoration project, and please let one of our campaign co chairs below know if you have any questions or submit your question on line here. We'll promptly reply.
Thank you,
"Fog Signal Building Rises Again!" Fundraising Committee:
Bill Rands, Pam Semp, Skip Kadar, Buzz Hoerr,