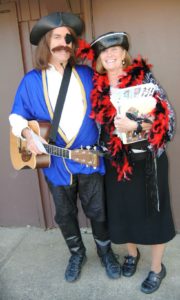 Saturday, September 24, 2016 The Buggs, Aka, Patch and Polly Pirate, will
perform on shore for the guests to the Harbor Beach Lighthouse and all
others who happen by.? Raymond and Susan Bugg are a husband and wife duet
from Harbor Beach, MI.? The Buggs perform their music at many assisted
living facilities and community events throughout Huron County and beyond.
Come for a tour of the Lighthouse and enjoy the entertainment. Click the link below to reserve your tour.