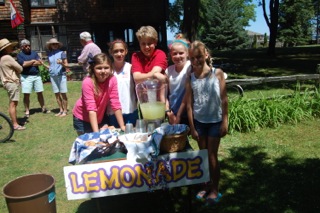 Recent fund raising efforts to purchase and install an exact working replica of the original 4th Order Fresnel lens in time for the 130th anniversary of the commissioning of the Harbor Beach Lighthouse next summer brought in donations from all parts of the United States. Of course, local residents and former residents donated to the cause, many of whom remember the flashing red and white sweeping beam that graced the landscape for years. Mariners who spend time in and around the harbor and on the waters of Lake Huron donated. Members of the Harbor Beach Lighthouse Preservation Society donated.
There was also a donation made by a very special group of young people that call Harbor Beach ?home? during their visit each summer. These individuals are young enough to have never seen the red and white flashing light shine along our shore. The yearly 4th of July lemonade stand tradition, by the McNair family from Cincinnati, Ohio, always benefits a local, worthwhile cause. Over the years 14 year old Eloise, 11 year old Charlotte, and 10 year old Webber have been assisted by neighbors and one special family friend, Ashley Wehner Palmer, to make this event possible.
Previous years donations have been made to the Harbor Beach Fire Dept, a local child with cancer and the Harbor Beach Theatre. This year Charlotte did most of the organizing and, with help from friends, they chose to donate $100 to the ?Bring Back the Lens? project. Their donation will sponsor a portion of the lens and the recognition plaque, but bigger than that is their spirit of community and the example they set for others.
The Harbor Beach Lighthouse Preservation Society gratefully accepts the donation from Charlotte and friends and also commends the McNair family and friends for their efforts to make a difference in Harbor Beach. We are excited that you and future generations will enjoy the flashing beacon for years to come.
There are still a few bronze level donations available. If you haven't contributed, hurry as these few left are going fast. To learn more about the program and to grab one of the last bronze level spots, click here.